Swamperella Plays the Local Thursday May 17th
Swamperella welcomes spring with an evening of your Cajun and Zydeco faves. Come down to where Roncesvales meets Dundas at
The Local
. The atmosphere is intimate and the beer is good.
Where: The Local, 396 Roncesvalles Avenue
Date: Thursday May 7th
Time: 9:00 till 11:45pm
Cost: pwc
Swamperella EPK
The new
Swamperella EPK
is out on YouTube. It was shot at last years Mardi Gras Party. It gives a good idea of what Swamperella is all about. Check out the the new video for
Leopard Skin Coat
as well.
20th Anniversary Mardi Gras Party, Tranzac Club, Sat, March 7
---
THE STORY FROM SOOZI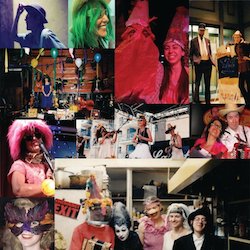 Swamperella is celebrating 20 years of playing clubs, weddings, special events and partying up Canadian crowds across the country... As most of you tried and true fans remember, Swamperella started playing monthly dances at the Gladstone Hotel in 1995...long before the venue was a 'venue'...long before it got so beautifully 'Queened Up!'
YOU were all there supporting us all the way!
And thanks to you we kept making it happen all these 20 years.
Anecdotally, many Swamp fans met future spouses at our dances !
-or broke up with boyfriends/girlfriends and met new ones!
-came out of their shells because they couldn't help dancing!
-and even on some occasions came out of the closet - who wouldn't!
All sorts of things happen at Swamperella dances...
including fabulous, infectious music.
Don't let this stop you from coming but here's a good story!
The night Swamperella saved a life!
One man had a heart attack while dancing vigorously to a song called Jig Francais (which the band still doesn't want to play)! The man was a Karate Master and originally an American who just recently moved back to Canada because of our excellent health care system...heard us on CBC and since he was a fan of Cajun music was so happy to come and dance to us!...and fortunately he WAS at the dance because the doctors told him that his heart attack was just waiting to happen and that if this had occurred while he was alone at home, he wouldn't have survived...but there WAS a doctor in the house..yah! and a Coroner no less!..who helped keep the man alive with mouth to mouth and vigorous chest thumping...until the ambulance came!!!!!
The guy had e had a triple bi pass ... all true!
So you are more than safe at a Swamperella dance...in fact it seems we saved a man's life that night!
Yesseriee!!! never a dull moment...
All sorts of people and all sorts of things happen at Swamperella dances!!!!
The great music and dancing notwithstanding!
Hopefully, we will have some videographers circulating so if you are camera shy just make sure you are wearing your Mardi Gras Mask...oh, and by the way...lots of prizes for best costumes / masks and dancing.
To all you Cajun and Zydeco music lovers who have supported us all these years...who have danced and whooped it up in or out of costume... you have given us so much good energy and this party is as much for you as for us!
Sincerely and Gratefully...
and looking forward to seeing you at the dance...
soozi schlanger - Swamperella
Swamperella Releases Leopard Skin Coat, February 2013
Swamperella's 4th CD is out. We held a CD release party at the Gladstone Hotel on Saturday February 16th. It's is our funkiest and most rockin' disc yet but you will still hear some traditional waltzes and two steps in the mix.
You can read reviews and purchase copies of
Leopard Skin Coat
on our
CD Page
To listen to some sample tracks check out our profile on
CBC Music
Leopard Skin Coat
is available on
iTunes
Cajun Fiddle Weekend with David Greely

The house concert and fiddle workshop were a huge success. David was a genial and knowledgeable instructor taught the Mazurka de Varise Conner and the Traveler Playboys Special and gave a great view into the mysteries of Cajun fiddle. The Mary Schlanger Auditorium was packed to the ceiling, and Soozi and Rachel joined in on the action.
Brand New Dave

Swamperella has a brand new Dave. Dave #3 in fact! For the past two years we have been enjoying the excellent percussion services of
David MacDougall.
If you are a dave and looking to get married just hang around us.....thats what seems to happen to all of our daves.
A message from Miss Swampy
2009 has been chock full of great Swamperella gigs......the 13th annual Mardi Gras at the Gladstone Hotel in Toronto was the kind of event that left me stunned..........(good stunned of course!) I had to wonder how does it keep getting better? The music, of course, with time and effort will always evolve.........but the party itself !!!!....the people...the vibe .....!!!!-and I have to say it ---the love---not groopie love..... but the love of having an excellent good time and everyone putting all they had into it to share that good time.... that kind of love! Sure the band works hard to set up a good party......decorating.....practicing......and recombining 13 years of old costumes so they look like different costumes...... but the whole big bunch of you on the dance floor gave it right back to us...thank you to all involved....bandmates.....Gladstone staff.... dance teachers Maya and Ann- Marie ....and all the people who attended. As if one amazing Mardi Gras wasn't enough......
Ottawa welcomed the band with open arms and dancing feet at the Elmdale Tavern......what a fantastic crowd....there was even a line up outside....filled to capacity.....(well its been known to happen at the Gladstone.....but this was our first Ottawa overflow event.) Thanks to the hard work of Jody and Michael of Ball and Chain who publicized the gig and conducted the dance lesson....----major good energy and great dancing and some pretty creative solutions to the space.....it was so crowded that sometimes waltzing and two stepping became difficult especially with all the support columns .......suddenly I looked up and the support pillars on the dance floor at the Elmdale became props instead of obstructions...This clearly wasn't the nations capital for nothing....... we were among serious professional problem solvers , that was obvious when a giggling conga line at once materialized...slinking around columns...... snaking along......and singing along....(making up the words just like we do!) Thank you Ottawa....see you next Mardi Gras!!!! This year we were again invited to play for Habitat for Humanity at the Air Canada centre (overlooking the hockey rink!!!) This was also a lot of fun......a great cause.....helping rebuild homes in New Orleans...and of course yummie food.....More feathered masks and Mardi Gras paraphanalia for our ever expanding collection were the by-products of a lovely event we played at Niagara on the Lake......
a fundraiser to help preserve the town's high school.......Wow !!!......and we got to meet the only Lord Mayor left in Canada....and we led a rousing version of O Canada ....I almost cried....hand on my heart and all.!!!!!!!....Well, truth be told, it was a patriotic moment to be sure.....but I remember getting a shameful C minus in singing in grade 4 because I sang O Canada....well shall we say in an over big voice.....not in a sweet girl voice....Well, man oh man, did that voice come in handy at this gig..... I sure enough nearly cried with joy...---------now what do you think of that, Miss Wickle?????.....thanks to the very supportive guests and organizers.......oh yes, and thank you for that lovely meal!
Swamperella on CD Baby
Black Cat Boogie
and
On The Line
are can now be purchased over the internet via
CD Baby
Swamperella at the Flying Cloud Folk Club
Swamperella performed at the Flying Cloud Folk Club last November. Wil Macaulay was there with his new-fangled electric camera and took some great shots of the proceedings. You can see more by going to Will's site on
Flickr


On The Line released fall 2007
Swamperella is very happy to announce the release of their new CD,
"On the Line"
. Produced by
John Switzer
, the album contains a mixture of traditional Cajun waltzes and two steps, Swamperella originals, and some upbeat zydeco numbers. We played to a packed house, and sold lots of CDs and had a great evening.
Tom and Myra have posted a couple of clips of the party on
YouTube
ON THE LINE is available on the
CD Page
on this web site
Swamperella in Black and White
At our May Gladstone dance, photographer Greg King took some wonderful photos of the band in black and white. Makes us look like serious old folkies. You can see them at our online photo gallery.
to join our mailing list for official SWAMPERELLA updates - get all the latest Swamp Scoops straight from the 'gator's mouth!